Wazz Sports has landed on site!
Published: 21/01/2019 12:10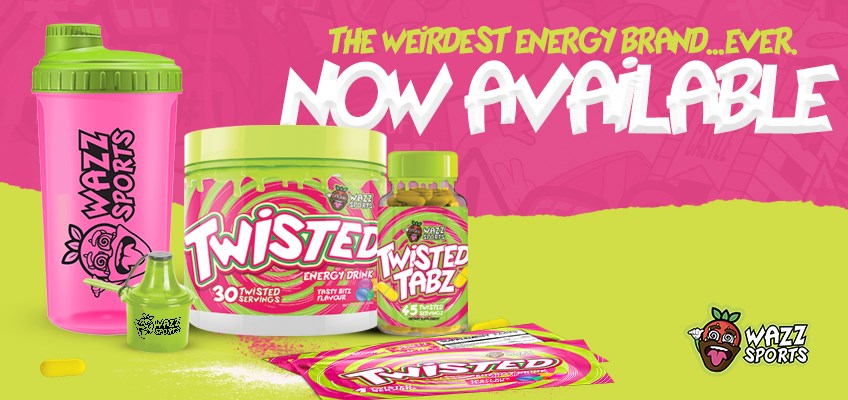 Wazz Sports has landed on site!
Wazz Sports, the most colourful energetic UK based brand you have ever seen is here.
#BeDifferent is the Tagline and Different is exactly what you get.
A Non-proprietary fully dosed blend of energy & happiness.
All products are completely open label and transparent. Twisted Energy Drink is available now in the first to market 'Tasty Bitz' flavour! Including Trademarked Ingredients AstraGin & Dynamine
Check out these awesome formulas:
Twisted Tabz:
Per Tab:
Caffeine Anhydrous 275mg
L-Tyrosine 125mg
Theobromine 75mg
Banaba Leaf (1% corsolic acid ) 40mg
Grains of paradise (std to 12.5% 6-Paradrol ) 20mg
Pro GBB ( Gamma-Butyrobetaine ethyl ester Chloride ) 12.5mg
Black pepper extract 5mg
Twisted Energy Drink:
Per 14.4g
Vitamin B6 ( as pyridoxine HCL ) 50mg
Vitamin B12 (as cyanocobalamin ) 7mg
AstraGin 50mg
Dynamine 40% 100mg
L-Citrulline 4000mg
L-Norvaline 150mg
Caffeine Anyhdrous 350mg
L-Taurine 1000mg
Beta Alanine 2500mg
Betaine Anhydrous 2000mg
Theobromine100mg
We've firstly taken stock of the Twisted Energy Tabz which as above contain 45 capsules, take 1 capsule 30 minutes before you do anything that requires ENERGY!
Click the Wazz Sports page here to buy Twisted Tabs. For more information call 0121 313 6738.