WORKOUTS NEEDN'T BE MURDER EVER AGAIN
Published: 03/10/2022 12:37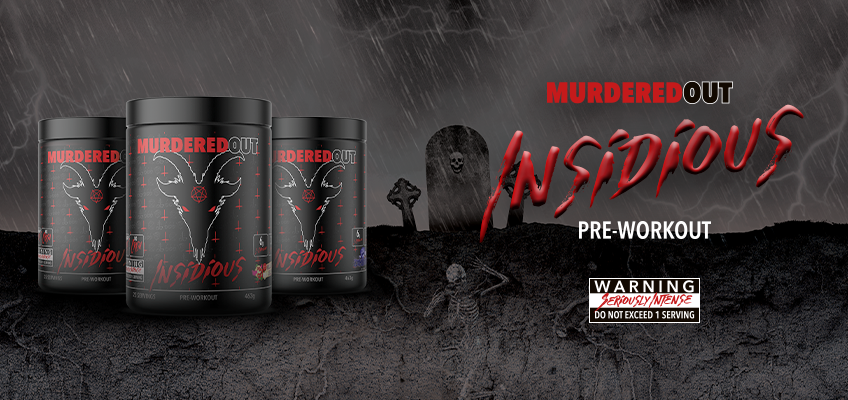 New brand Murdered Out is set to kill the competition with its new, high-performance pre-workout supplement, Insidious.
Insidious is packed full of powerful ingredients that combine to supercharge any physical performance, again and again. Helping gym-goers and sports-pros to stay stronger, react quicker, last for longer, pump harder, and recover better.
The supplement itself is a sick cocktail of Citrulline Malate, L-Arginine, Beta Alanine, Betaine, Acetyl L-Tyrosine, Taurine, DL Choline Dihydrogen Citrate, L-Theanine, Beetroot Extract, and BioPerine.
These advanced ingredients, at optimum quantities, are designed to ignite physical potential so fitness enthusiasts can kill their workouts every time, without feeling like they've been to hell and back afterwards.
The makers, Murdered Out, say their supplement is aimed at fitness fiends who are hell-bent on maximising every second of every workout they do. Insidious is designed to be the fuel that fires-up energy levels to allow individuals to push through the pain and get past the demons in their head.
The beady-eyed amongst you will notice the striking brand identity that sports a horror-esque theme. Murdered Out say this is to appeal to the uncompromising determination of their target market. That is, gym-goers who are steadfastly serious about achieving success by stealth – avoiding all the blood, sweat, and tears that comes with ineffectual gym sessions.
Tropicana Wholesale, one of the leading wholesalers of healthy snacks and sports nutrition products in the UK, are one of the first to stock the Murdered Out brand, as well as Prometeus in Europe.
Maria Ermoyenous, Marketing Manager at Tropicana Wholesale, says: "We're super-excited to offer our customers the Insidious pre-workout supplement by Murdered Out. We've road tested the product ourselves and it really does pack a wallop!
"While it's perfect for everyday gym-goers who want to get the best out of their time at the gym – we think it's going to get snapped up fast by deadly-serious fitness freaks who want to annihilate their competition.
"We love the brand look and feel. It plays to the dread people have of hardcore gym sessions but recognises they have an insatiable desire to murder their workouts!"
Insidious comes in three wicked flavours: Sour Scummy Bear, Killer Lollipop and Zomberry. Sour Scummy Bear tastes like Gummy Bear flavour, while Killer Lollipop is a refreshing fruity flavour. Zomberry has a taste somewhere between wild berries and gum.
One scoop mixed with 250ml of cold water – around 20 to 30 minutes before training – is enough to fuel extreme performance levels.
Insidious by Murdered Out is being distributed in the UK by Tropicana Wholesale and retails at £34.99 for 25 servings (a 463g tub). Click here for more details.