Vegan Friendly Capsules
Published: 02/07/2019 11:13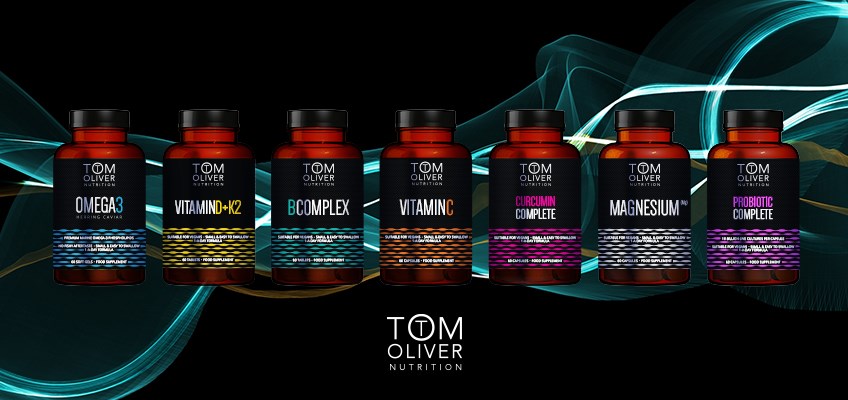 British supplement company Tom Oliver Nutrition has launched a specialized range of vitamins and minerals, to fill, what it views, as an knowledge, education and nutrition gap around dosage and format.
Having launched in the UK early April 2019, Tom Oliver Nutrition's range has quickly gained popularity in numerous markets.
Following the successful UK launch, they quickly launched with Holland & Barrett and Pure & Well in Singapore, Apollo Pharmacy in India, and 300 pharmacies and health stores across the UAE, as well as a further 200 outlets in Malta.
The vegan friendly line of capsules, tablets and soft-gels include Vitamin D+K2, Vitamin C, Vitamin B Complex, Curcumin Complex and Probiotic Complete, as well as the only sustainable Omega 3 Phospholipids supplement, from Herring Caviar.
Founder and Director Tom Oliver said: "We have seen excellent interest from retail buyers, distributors and customers from Europe, the Middle East and Asia and as such, have been moving fast to further establish our brand in these regions."
Tom Oliver continued: "What we have learned from our research, is that customers still don't take vitamins regularly because too many companies are still making them too large and inconvenient to consume. Our Omega 3 Herring Caviar supplement became popular because of its superior absorbability, and as a result, you need less and therefore the soft-gels are small and easy to swallow, what's more they don't have a fishy aftertaste and its only one a day formula.
We have taken this on board and created an entire range, which delivers the same, maximum absorption, small easy to swallow capsules, tablets and soft-gels, all in a sustainably packaged glass bottle format."
As a brand, Tom Oliver is very clear he is not trying to compete with the mass market; they are a premium brand and are focused on delivering their customers a high quality product.
"The market is maturing and customers are demanding quality and as such they are willing to pay a slightly higher price" To achieve this, Tom Oliver Nutrition have focused on absorption and ingredient compatibility for its high quality range. "Quality is key", Oliver says.
Its Vitamin D+K2 tablets are a combination of D3and K2, which helps direct the vitamin D to areas of the body such as bones, where it can be better absorbed.
Their Curcumin Complete product was developed based on research that shows a 2000% increase in bioavailability when combined with a specific amount of Piperine.
Similarly, its Probiotic Complete product use's a new format of probiotic called Lactospore, which is clinically validated as a shelf stable probiotic, containing L(+) lactic acid-producing microbial preparation from Bacillus Coagulins MTCC 5856.
More concentration is not always more benefit.
Oliver Says: "we really want to stop this stupid "more is more" philosophy. All these vitamin companies are jostling for position with ever-higher concentrations. It's madness. If you drink one glass of red wine, we understand there are benefits and its good for your health. If you drink 3 bottles of red wine, you'll not only get a nasty hangover, but long term, you'll cause yourself some very serious health issues. The same can be said for eating a hamburger, one will provide some vital protein, carbs and fats, however, 10 at a time will likely make you very fat and very unwell, long-term. So why are we not applying the same approach to vitamins?"
Tom Oliver Nutrition is clearly a company with high aspirations and due to their small, easy to swallow, sustainably packaged products and carefully considered formulations and concentrations, its no wonder they are gaining a global popularity.
We are pleased to announce the full range is now available at Tropicana Wholesale. Click here to view the range.