USN'S SUMMER OF FOOTBALL HAS STARTED
Published: 10/06/2016 10:11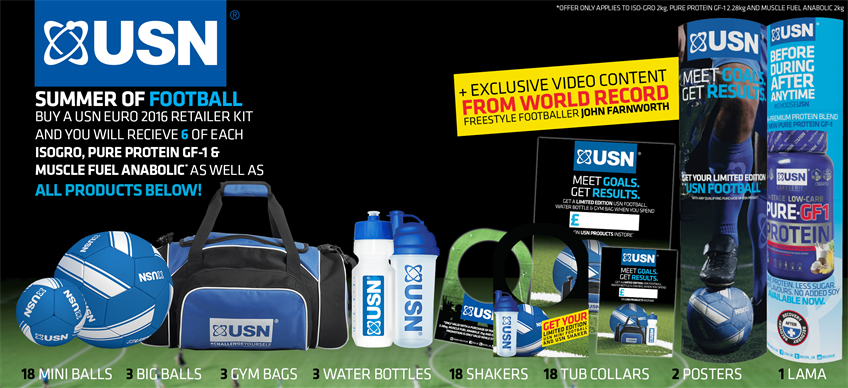 When you purchase a USN Euro 2016 Retailer Kit you'll have everything you need to change the look of your store while the Euro's are on, what a great way to engage with your customers!
So what do you get?
USN Muscle Fuel Anabolic 2kg, 1 Caramel Popcorn, 2 Chocolate, 2 Strawberry and 1 Vanilla
USN Pure Protein GF-1 (New Formula) 2.28kg 1 Caramel Popcorn, 1 Chocolate, 1 Chocolate Peanut, 1 Pina Colada, 1 Strawberry, 1 Vanilla
USN Ultra-Premium Iso-Gro Whey 2kg 2 Chocolate, 2 Cinnamon Bun, 2 Cookies & Cream
2 Euro 2016 Posters
1 Euro 2016 Stand/Lama
18 Tub Collars Advertising the Free Mini Football and USN Shaker
18 Mini USN Footballs
18 USN Shakers
3 Full Size USN Footballs
3 USN Gym Bags
3 Water Bottles
How do you pass the promotion on?
The first promotion that you can apply to all 18 units of products within the kit (Muscle Fuel Anabolic, Pure Protein, Iso-Gro) is 'get a free mini football and shaker with each tub'! The second promotion is based on a spend that the customer must meet on USN products, if they meet the spend then the customer will receive a full size football, gym bag and water bottle. This can be advertised on the posters that are provided and you can fill in the spend needed to get this promotion yourself - we suggest around £60 on spend USN products.
So what are you waiting for? USN's Summer Of Football has started - order your kit now!
COME ON ENGLAND!