Tastes Great with Clean Lean Protein!
Published: 12/04/2019 11:13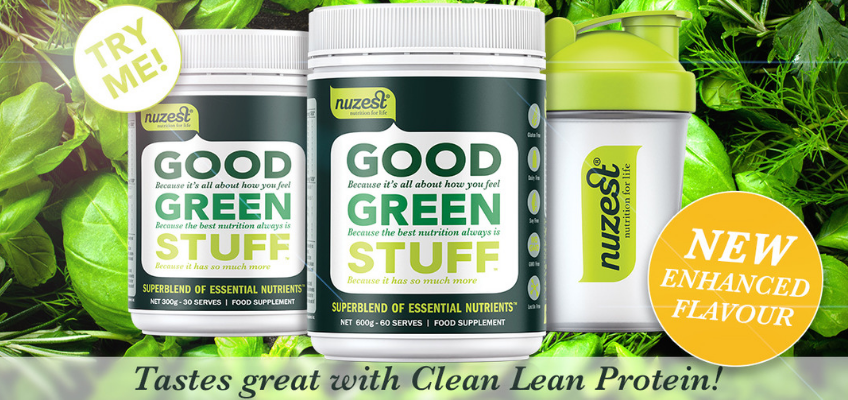 Nuzest is a company dedicated to making the best food-matrix, food supplements. We've always worked with product formulators known for their expert knowledge of nutritional science as well as their great sense of taste. Well, the best just got better.
Alongside our chief formulator (and keen cook), Robert Verkerk PhD, Nuzest is lucky to have Chris Barge on the product development team back in Sydney. Why? Because Chris is also a trained chef with a wonderful palate for making stuff taste great.
Building on the exceptional response to the new Clean Lean Protein Functional Flavours (which have sold out at every event we've been at this year!), we thought we'd take advantage of our recent decision to centralise our manufacturing of Good Green Stuff in Australia with some additional product development. This decision was made to increase efficiency, ensure continuity of supply of all 77 ingredients in Good Green Stuff and to ensure conformity of product quality in all markets.
In the continuous pursuit of excellence that Nuzest has become renowned for, we asked Chris if he could enhance the flavour of Good Green Stuff. We hope you agree that he's managed just that. Trust us, making 77 nutrient-packed ingredients taste good, whilst keeping it all natural, is no mean feat.
Another challenge for our flavour development was making sure Good Green Stuff could still be mixed with our Clean Lean Protein products — particularly the vanilla, vanilla matcha and chai, turmeric and maca flavours. That's something many of our customers do as it makes a perfect post-exercise recovery shake or meal replacement. All of this takes product formulators with passion for real food, rather than food technologists, to pull off what some would think is impossible. That's why Nuzest products are continually voted the best tasting products in their class.
We took the opportunity to make a few other tweaks to enhance the label too — like using a lighter background behind the ingredients list to add greater contrast and changing the Free From icons to ticks for easier readability.
We hope you love this new flavour as much as we do! And please give us your feedback by calling 0121 313 6738, or email Enquiries@tropicanahealthandfitness.com