TRAIN THROUGH THE PAIN – INTRODUCING NEW PRO PANE EVO
Published: 26/04/2018 10:11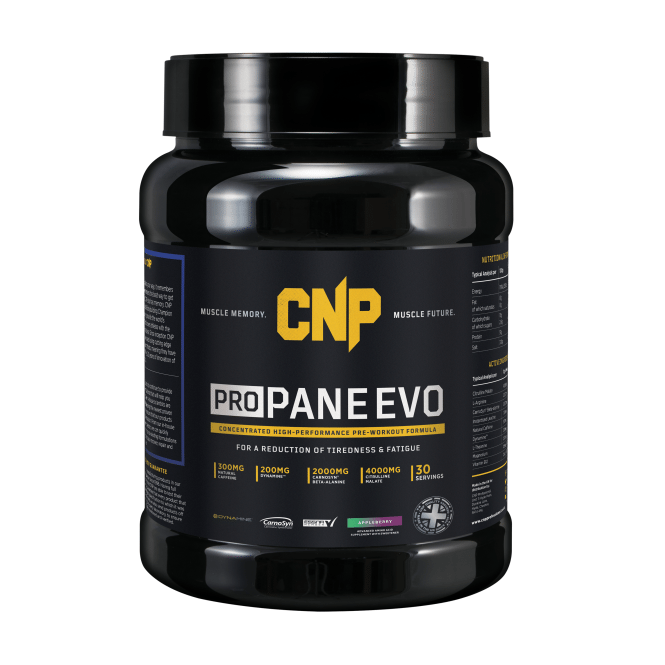 Pane Evo has been developed as an enhancement of its much-loved predecessor - Pro Pane. Harnessing the benefits of the original formula, but bringing in a stronger formulation, with clinically studied ingredients and an improved product function. Pro Pane Evo is designed to ramp up levels of energy, focus and stimulation, to give you the feeling of being able to lift weights you've never lifted before! Pro Pane Evo is the first UK product to utilise Dynamine™, combined with a large hit of Caffeine, Carnosyn™ and a host of other beneficial Pre-Workout ingredients.
Pro Pane Evo can also be combined with Pro Pump Evo, to achieve a high level of stimulation and the best muscle pump you've ever had during a session.
Pro Pane Evo is available in four flavours; Blue Raspberry, Watermelon, Appleberry and Cola Blast, to be taken with 200-300ml of cold water. Be warned though, this product is very strong.
Dynamine™ is the latest Pre-Workout ingredient to hit the supplement market, and CNP are the first UK brand to utilise it.
Dynamine™ is Methylliberine, a purine alkaloid found in the Kucha tea leaf. Its molecular structure is similar to that of Theacrine and is thought to work in similar ways within the body. Methylliberine is believed to amplify feelings of energy, mood and focus, by activating dopamine receptors and other key neurotransmitters, inhibiting adenosine receptors, all without elevating heart rate and blood pressure.
Dynamine™ kicks in after about 20-25 minutes, and the benefits last for approximately three hours. Current understanding suspects that the presence of an extra methoxy group found in the chemical structure of Dynamine™ is responsible for the elevated feelings of delivery and effect.
Pro Pane Evo contains a strong 200mg input to work alongside the 300mg of Natural Caffeine. This makes our new formulations a seriously hard-hitting boost for your next training session.
Research is currently being sponsored in the US throughout a number of universities to delve further into the effects of this new ingredient. As this research progresses and more findings are brought about, CNP will make sure they are kept in the loop as they get access to the data. Current understanding surmises that Dynamine™ activates dopamine receptors, inhibits adenosine receptors and may also influence norepinephrine and GABA signalling pathways.
Try it today!!
For more information, please contact your Account Manager at Tropicana Wholesale by calling 0121 313 6738