Supplements for Vegans
Published: 17/09/2018 10:11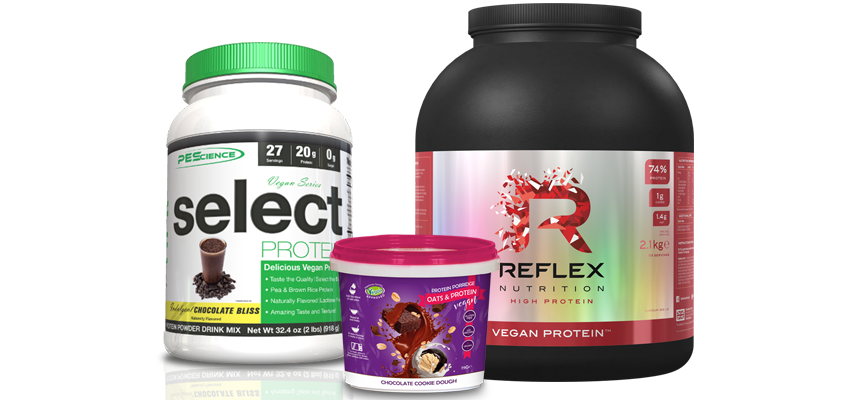 One of the biggest recent global food trends has been a surge in sales of plant-based supplements. With more people going vegetarian and vegan and many others just cutting down on meat and animal-based products they're flying off the shelves. The jury is still out as to whether this is a healthier way to live, as no research has compared a vegan diet to a 'healthy' non-vegan diet but adding more plant-based foods to your diet can't be a bad thing. There is probably also a benefit to the environment.
Currently, the biggest selling sports supplement category is protein powder but while whey, casein, egg, etc still comprise the vast majority of sales, the fastest-growing area within protein is from plants - rice, pea, hemp and other plant proteins are gaining market share every day! This is a good sign because it is difficult to obtain adequate protein on a vegetarian and especially a vegan diet. When many of these products first came out, they tasted chalky and had a grainy feel in the mouth when you drank them. However, now several of these products mix up smoothly and taste great. Also, while whey protein is still the highest 'quality' protein (meaning it has the highest concentration of essential amino acids - the ones the body needs to get from the diet to build muscle), several vegan proteins are of very similar quality now. Plant protein manufacturers have also eliminated most of the so-called 'anti-nutrients' naturally found in some plants, which impair absorption of the protein. This now means that overall, plant protein is now a viable alternative to those from milk and egg proteins.
In fact, not only are some of these products a viable alternative but many have been formulated to deliver some very desirable characteristics, for instance… PES Select Vegan Protein has a combination of pea and rice proteins. The rice has high levels of some essential amino acids which are low in pea protein and vice versa. By combining proteins in this way the quality is probably similar to whey and egg! Reflex Vegan Protein contains probiotics, a digestive enzyme complex, all-natural colours and the natural sweetener stevia. It is also produced using renewable, green energy! Feel Free Vegan Porridge also contains two complementary vegan protein sources, along with superfoods. For a straight up pure pea protein product, Nutristrength Pea Protein has only two ingredients - Pea Protein Isolate and Sunflower Lecithin. Finally, if you want a ready-to-drink bottle, try Ufit 100% Plant Protein, with no-added sugar and high in healthy fats from coconut milk!