Super Charged Pre-workout Formulas
Published: 28/01/2020 14:46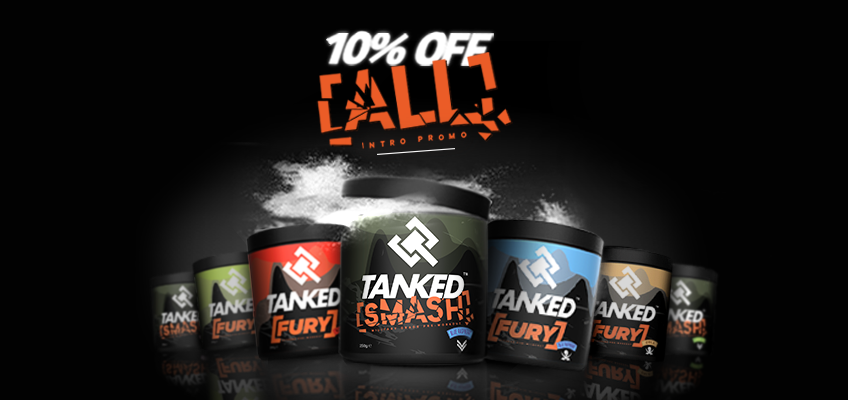 Two of our newest pre-workouts are by Tanked; Smash and Fury. Both launching in January 2020 with Tropicana Wholesale on a 10% promotion! Read on below for more product details.
What is Tanked SMASH?
This is the end of your search for your pre-workout formula. Designed to be with you through every step, rep, push and slog of your workout seeing you through more and more sets as you push yourself to your limits. Take advantage of the ingredients included in this blend and max your pump and focus abilities. Stimulants included in this blend will provide a heightened focus and intensity level needed by anyone looking to beat there personal best and beyond! However, TANKED SMASH is much more than just stimulants, we've also packed in research proven essentials like as Beta-Alanine, Creatine, AAKG and L-Citrulline Malate in our own equisite formula designed to help you maximise your performance, recovery and achievement through every hard training session!
Who can use Tanked SMASH
This pre-workout is not for the faint hearted, ensure to try this out at just 1 scoop before increasing to the maximum dosage level of 3 scoops! This is to be used ONLY if you are going to workout, and workout at an intense level to ensure the maximum potential of this pre-workout blend is optimised.
TANKED FURY brings a whole new level of intensity into your workout program! We've designed FURY from the outset to cover everything you need:
FURY CORE FACTS:
• Epic Pumps
• Killer Energy
• Insane Focus
• Ridiculous Taste
FURY CONTAINS:
• Psycho Energy Blend - Caffeine, Bitter Orange Peel, Vitamins & Amino Acids
• Designed for Unbeatable Pumps & Endurance - Citrullina Malate, Beta Alanine and more!
• Exquisite, Enjoyable, Candy-luscious Flavour! FURY is pre-workout candy!
FURY brings all this and more - our battle ready formula helps you destroy your workout like a Cage Fighting Champion. Whether you're hitting the weights and lifting heavy, or smashing cardio, or taking part in your chosen sport, FURY takes things from amateur league to premiership in every delicious scoop.
For more information on Tanked and our other pre-workouts, call the sales team on 0121 313 6738.