Promotion Ideas for Easter Holidays
Published: 12/04/2019 17:03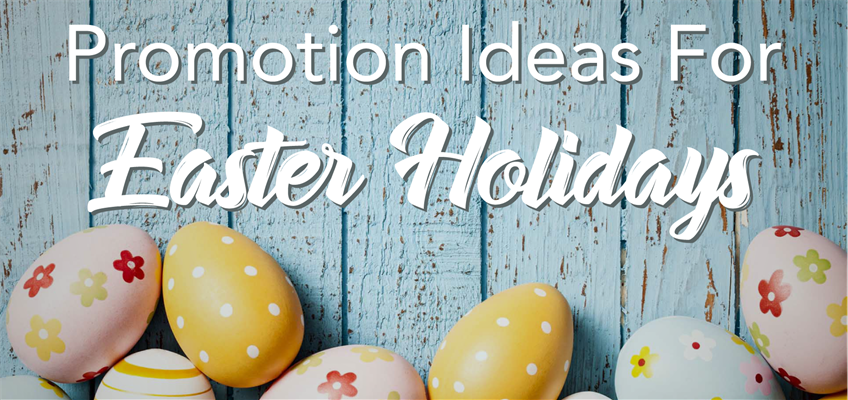 Easter is sometimes overlooked in businesses busy calendars. But it's a fresh, fun and friendly holiday with potential for creative promotions and online content. Here are 5 ideas to get you started.
Creative Easter photo contests
Like every great festival, Easter has its own, instantly recognizable, visual style. Eggs, bunnies, baby chicks, flowers, baskets… And that makes it the perfect occasion for a themed photo contest. You can ask your community of customers, or social media followers, to share their Easter pictures. There is wide scope for an Easter theme with products such as protein powder, chocolate flavoured protein bars, and other sweet healthy snacks!
Choose a theme that incorporates products from your brand, store or company, or encourages your followers to try another activity. Here are a few quick ideas for Easter promotions with photo contests:
• Chocolate flavoured products on promotion
• Easter egg hunts
• Easter outfits, including costume contests
• Easter competitions
• Easter parties or celebrations
As well as the fun of joining in, photo contests bring plenty of benefits for your brand. When people sign up and share their photos, you can collect contact details for sales leads. You could even get image permissions, so that you can use photo entries in your own marketing campaigns and social media content.
Just make sure you offer a prize to make it worth your followers' while. The prize should be exciting, designed for your target market, and just a little bit luxurious.
Easter quizzes, games and puzzles
There are lots of traditional games and activities at Easter, from the traditional egg hunt to Morris dancing. You can play along too, with online quizzes and puzzles for your followers. For example, display a jar full of Easter eggs in your store or café & whoever guesses the number of eggs could win them all!
This is a great way to get involved if your brand or company doesn't have an obvious connection to Easter, family traditions, or kids' activities. After all, everyone loves chocolate, right?
Easter bake-offs and recipe contests
For many people, the highlight of Easter is all the delicious treats on offer. Chocolate eggs and hot cross buns, Simnel cake and Sunday lunch, peeps and jelly beans… It's exactly the right time for a recipe contest. Ask people to share their secret family recipes, new twists on old traditions, or ideas for Easter baking with kids.
Why not create healthy versions of popular recipes? You can place products you sell on promotion such as Peanut Butter, Protein Powders, syrups and Jams, and use these products as ingredients and ensure they are part of the recipes!
You can share recipes in any format with a photo contest, as written recipes, or even in video format. Just make sure that you display all the entries in a public gallery for people to experiment and enjoy. And just like any other contest, you can use the contact details and user-generated content from the bake-off to guide your future campaigns.
Easter egg hunts, on- and offline
The Easter egg hunt is a classic game. And it works anywhere: you can set up an Easter egg hunt at home, or at work, or with friends and family. And even… online. This is one of our favourite ideas for Easter promotions. Try hiding clues or contest links around your website so that your followers have to hunt down their prize! The prizes can be the brands and products you sell. This will help push these popular lines. Why not include all 'Chocolate' flavour products in the prizes? This is Easter themed!
Easter photo frames
Finally, here's one more way to bring traditional Easter fun online: Easter photo frames. Instead of running a standard photo contest, give your followers the tools to be even more creative. With the various photo apps, they can upload photos or selfies and decorate them with seasonal frames and stickers.
Happy Easter! And, to find our which Chocolate flavoured products we sell, call 0121 313 6738 or visit www.tropicanawholesale.com