PHD SMART BAR
Published: 18/04/2017 10:11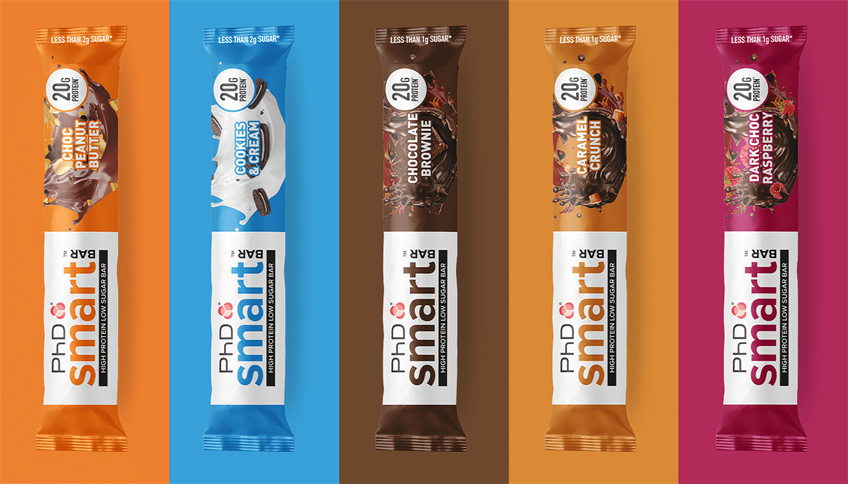 PhD's official launch of Smart Bar™ at the 2017 Bodypower expo at the NEC, Birmingham is one of those moments that any brand should live for. It's the moment when you can see months of hard work and stubbornness result in the launch of a protein bar that is going to move the industry on another giant step, from the great work that is being done currently and which PhD had a leading impact on, some 6 years ago with the launch of the Diet Whey Bar. It will be one of the defining moments within the life of the brand.
Smart Bar™ is 20g of protein, between 0.4g and 1.9g of sugar (flavour dependent) and is wrapped in unadulterated triple layered sports nutrition indulgence.
Free from Palm Oil, Smart Bar™ is available in 5 delicious flavours, each catering to the chocolate lover:
- Caramel Crunch
- Chocolate Brownie
- Dark Choc and Raspberry
- Choc Peanut Butter
- Cookies and Cream
The Smart Bar™ is positioned perfectly for the huge growth in new users stampeding into the protein lifestyle area, seeking functional results and efficacy whilst maintaining a macro and carb-controlled diet, yet not willing to compromise on great taste and confectionary texture.
Industry feedback from our initial meetings and closed door sampling sessions have left me speechless. Never before in 20 years spent within the sports nutrition industry have I seen such a level of excitement and belief in a products ability to change the game.
Smart Bar™ is the first in our new range of "The Smart Choice" bars and snacks innovation. PhD have two more amazing products ready for launch in late 2017 which will continue to see PhD driving hard into bars, drinks and snacks for the intelligent consumer.
Look our for the chance to pre-order your Smart Bars next month, in May, via Tropicana Wholesale. In the meantime, call 0121 313 6738 for more information.