PERFECT PEA PROTEIN
Published: 27/09/2017 13:54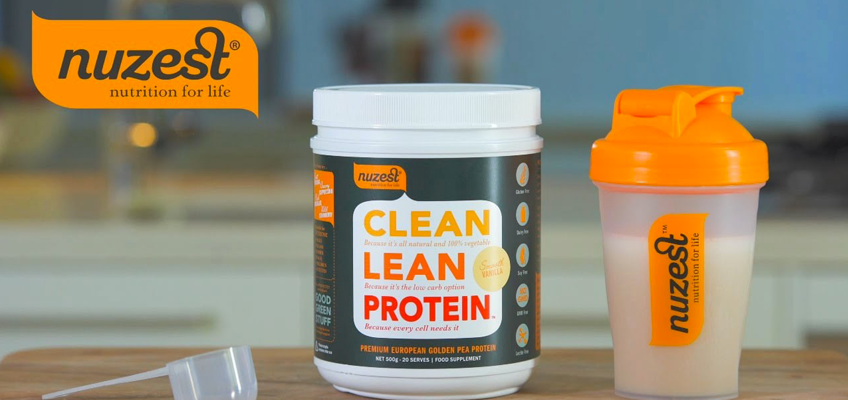 Tropicana Wholesale are extending their plant protein offering by now stocking 'Nuzest' - a range of natural protein and greens products.
Nuzest Clean Lean Protein – 100% Natural Premium European Golden Pea Protein Isolate Proven By World Champion Athletes.
All natural, plant-based, real food. Complete with all 9 essential amino acids and more. Low carb. Suitable for EVERYBODY - Vegan, Paleo, Primal, Kosher, Halal, Adults, Children, Athletes.
One of the world's most effective hypoallergenic protein for building muscle and vitality. Out-performs whey, casein, egg and other plant-based proteins.
Patented, water extracted, chemical solvent free, low temperature processed, pea protein isolate with a complete amino profile, all natural ingredients, no synthetic additives and virtually no carbs. Sustainably grown in Northern Europe with no requirement for nitrogen fertiliser or irrigation.
21g of protein per 25g serving (flavour dependent).


89kCal per serving (flavour dependent).

Less than 0.1g sugar per serving.

Less than 0.5g fat per serving.

Low Carb.

4g of Glutamic Acid (Glutamine) and 4g of BCAAs per serving including 2g of Leucine.

2g of Arginine per serving
Why Nuzest Supplements?
When it comes to your health, you deserve the best. Our premium nutritional supplements are formulated by global industry leaders and based on the latest scientific research. Quality without compromise, that's our promise. Quick, convenient and trustworthy, Nuzest products are designed to give your body what it needs to balance the demands of a busy life. Powerful, nutrient-packed formulas for a stronger, brighter, more active you.