NUTTIN' like the rest
Published: 06/11/2018 12:37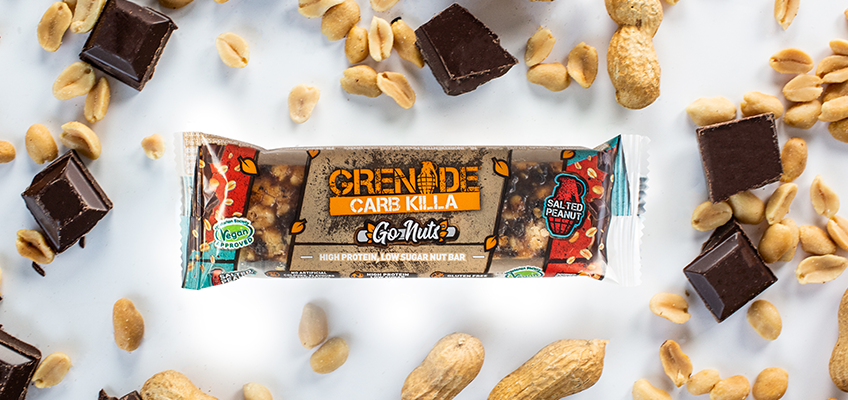 If you like Nuts, you'll love the new Go Nuts bar by Grenade. As the newest member of the Carb Killa family, this delicious Salted Peanut flavour bar is set to revolutionise healthy snacking. Each bar contains 10g of protein and is low in sugar, making it a great Grab & Go snack option.
Go Nuts for more features as below…
NUTTIN' ARTIFICIAL
The Carb Killa Go Nuts bar is the ultimate guilt-free snack to grab on the go, containing absolutely nuttin' artificial. There are no artificial colours, flavours or sweeteners and it's gluten free too!
KEEPIN' IT LOW
As part of the Carb Killa range, it's only right that Go Nuts features the same low levels of sugar, with just 2g per bar. Go Nuts™ also packs a 10g punch of protein, making sure it hits the healthy snacking mark.
VEGAN-FRIENDLY
The Go Nuts™ bar is vegan approved, making it a great choice for those following a plant-based diet.
NATURALLY NUTRITIOUS
A great source of fibre, protein and antioxidants, healthy snacking doesn't get much better. This natural, protein nut bar will satisfy your sweet tooth and leave you feeling fuller for longer.
NUT GIVING IN
Packed full of yummy nuttiness, the Go Nut bar is nutritious but certainly doesn't compromise on taste, proving you can indulge and stay on track.
SNACKING SAVIOUR
Your morning coffee companion or a go-to snack to fuel your busy day, the Go Nuts vegan protein bar can be eaten at any time, whatever your plans. Carb Killa Go Nuts is a vegan protein bar that's low in sugar and high in protein. It's packed full of peanuts, with no compromise on taste. Try it today!
Each box contains 15 x 40g bars. These are available to order now by clicking here, or calling our Sales Team on 0121 313 6738 or click here.