METAL SHAKE - A REALLY 'COOL' SHAKER!
Published: 04/09/2017 10:11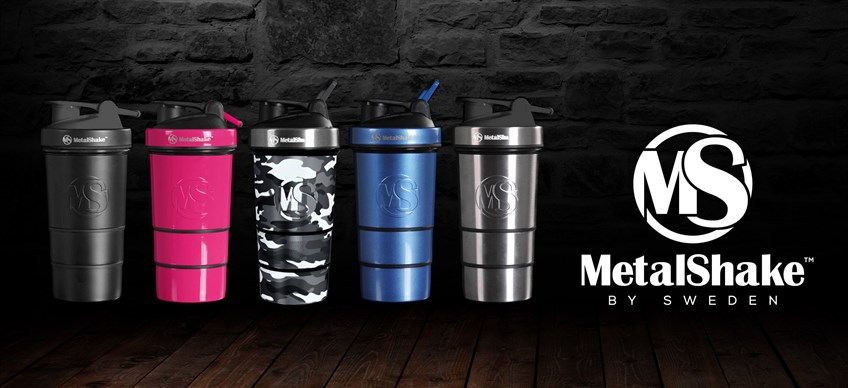 Introducing NEW MetalShake by Sweden, THE 'Coolest' Shaker in town..why? MetalShake contains an 'IcePuck' which keeps the shaker cool...Read on...
HOW DOES IT WORK?
Our PP fibre 100% toxin-free Stainless Steel multi-function sports bottle is the ideal solution for all workout enthusiasts who enjoy smooth & lump-free supplement shakes on the go.
OUR SHAKER CONSISTS OF THESE ELEMENTS
The leak-proof lid
The lid is specially designed to keep the shaker securely closed at all times with a deep twist lock design. The snap on lid will remain closed even during heavy shaking motion.
Stainless steel dissector net
The dissector net who´s new hole size development makes wireballs, or loose mixing elements inside the shaker, unnecessary. It delivers smooth and lump-free shakes in seconds.
The main container
The main container holds up to 18.5 ounces (550ml) of fluids.
The IcePuck
Made in PP fiber and it fits in the middle compartment & keeps the bottle cool for 4-6 hours & the bottom storage compartment. The MS IcePuck is made of a freezing gel that is 100% toxic free but not for consumption.
The two storage compartments on the cup offers a wide range of applications:
The middle compartment
Use it with the IcePuck to keep the beverages really cold and fresh up to 4-6 hours.
Use it as a storage container for additional protein powder - ideal if you want to have one full pre-workout shake and one full post-workout shake.
Use it as a storage container for car keys, gym locker key, jewelry, money or any other small items.
The bottom container
Use it as a storage container to store any other beverages or supplements of your choice.
Use it as a drinking cup (either your own beverage or for your pet)
This newest edition to Tropicana Wholesale's range of shakers is available in 5 colour variations: Black Steel, Pastel Pink, Urban Camo, Cool Steel & Blue Pearl, and retail at £19.99 each.
Call your Account Manager on 0121 313 6738 for more information on MetalShake by Sweden.