Just Launched: Tribe Nutrition
Published: 03/07/2019 12:55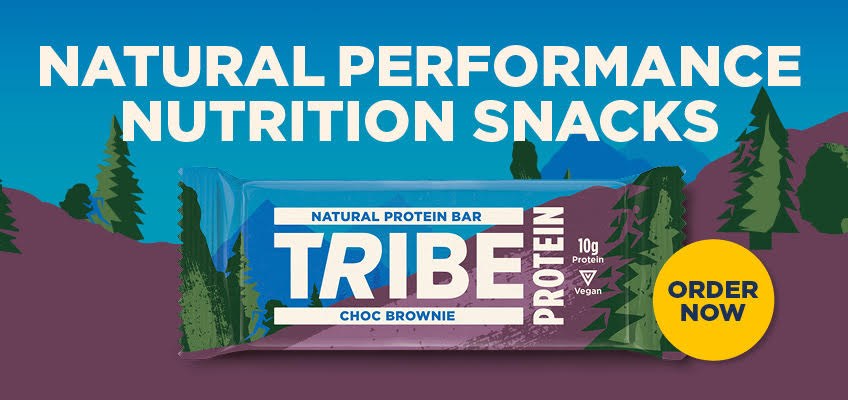 About us: Tom, Rob and Guy started TRIBE in 2015 after a 1000 mile run across Eastern Europe. Frustrated with synthetic sports nutrition on this and other adventures, they created a range of natural energy and protein recovery bars for everyday athletes. All made in the UK from the best quality natural ingredients TRIBE bars are perfect for everyone looking to fuel up for a workout or recover from a hard session. 1p from every TRIBE bar sold goes to their TRIBE Freedom Foundation which has raised over £250k to fight human trafficking.
Our products:
TRIBE Infinity Energy
TRIBE Infinity Bars provide slow-release natural energy from wholegrains, nuts + nutrient-rich ingredients such as cacao nibs. Each bar is 100% natural, vegan, and 60% less sugar than leading competitor energy bars. Built for Performance.
Flavours:
Apple + Cinnamon
Choc Salt Caramel
Peanut Butter Crunch
TRIBE Protein Bars
TRIBE Protein Bars are unlike any other protein bar. They're made from real foods: a mix of fruits, nuts, rice protein and nutrient-rich natural ingredients such as nutrient-rich cacao nibs and real coffee beans. Each bar is vegan, 100% natural, provides 10-11grams of protein, is gluten, dairy and added sugar free. They're great to refuel after exercise or as a healthy protein rich snack.
Flavours:
Choc Brownie
Coffee + Walnut
Choc Peanut Butter
Being natural, vegan and free from Gluten, Dairy and added sugars TRIBE bars have a broad lifestyle appeal and are taking the fitness world by storm. Get involved in the TRIBE movement and order today!
#BE A FORCE OF NATURE
For more details contact our Sales Team on 0121 313 6738, or to shop the range click here.