IT'S THE END OF THE MONTH ALREADY!
Published: 31/05/2018 10:11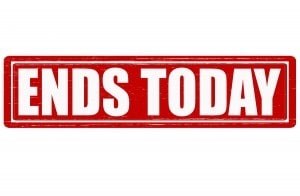 It's the end of the month already, how quick has that gone! Don't miss out on our May offers. Place your order today before they end at 5pm this evening. We have unbeatable promotions on all of the latest Sports Nutrition & Health Food Supplements.
Here's a quick preview of what you can buy today:
20% off the whole Trek range.
Free Lean Degree Max Strength 100 capsules when you buy PhD Diet Whey 2Kg.
Buy x4 Optimum Nutrition Creatine 2500 200 capsules and you'll be charged for 3.
Buy x5 BSN Nitrix 2.0 180 capsules and you'll be charged for 4.
Buy 6 Kinetica Oat Gain 2.4Kg & 4.8Kg choc caramel & raspberry yoghurt and get 1 free.
Get 10% off Snickers & Bounty Flapjacks 12x65g/18x60g.
The entire range of our brand of the month Warrior has 20% off which also will end today.
Get your orders in now!
For even more great offers visit our monthly offers page now. Looking for a more bespoke offer call your account manager today on 01213136738.