Guilt Free Crunching
Published: 03/12/2018 16:14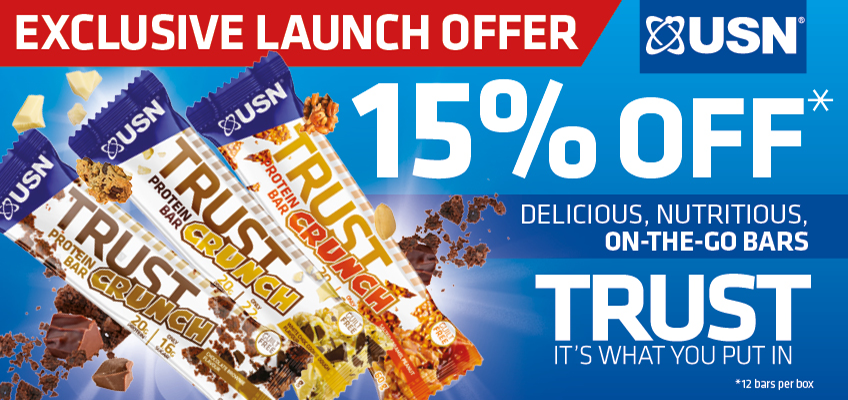 Taking great tasting, healthy snacks to the next level, the NEW USN Trust Crunch combines deliciously scrumptious flavours with great nutritionals. Each mouth-watering bar delivers over 20g high quality Protein and just 2g Sugar, assisting with muscular development throughout the day, whilst limiting build-up of surplus calories. The Trust Crunch is available in three succulent flavours; Salted Caramel Peanut, Fudge Brownie and White Chocolate Cookie Dough to keep those mid-afternoon Sugar cravings at bay. Don't compromise on taste and look forward to your next healthy snack, with the NEW guilt-free 60g Trust Crunch bar.
Product Highlights
• Amazing taste with the nutritionals to go with it
• 20g Protein and just 2g Sugars
• Assist muscular repair and limit calorie intake
• Three mouth-watering flavours
• Guilt-free snack to keep those Sugar cravings away
This month save 15% off NEW USN Trust Crunch Bars as a special launch offer. Also look out for the Counter-top Display Units (CDU). For more details call our Sales team on 0121 313 6738, or visit the USN page.