GET A BOOST FROM THE MOOSE!
Published: 23/08/2016 10:11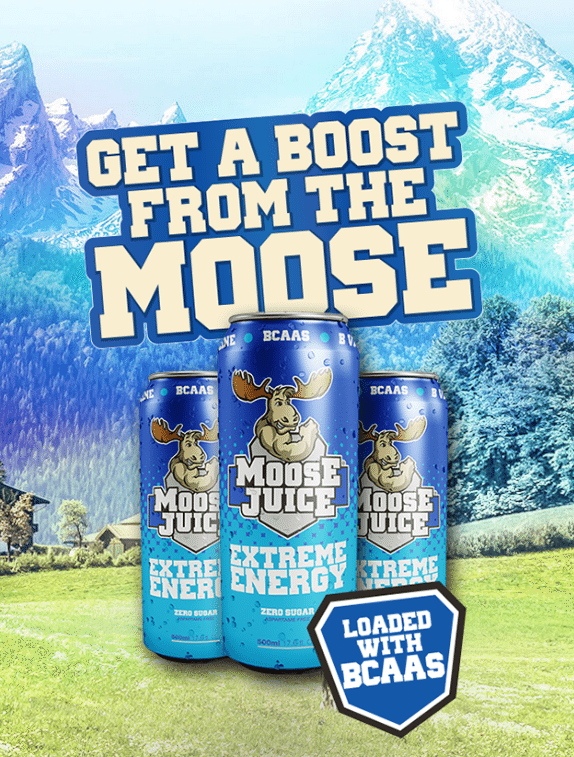 When we heard there was a new product on the way from Muscle Moose, we didn't expect to see a 500ml BCAA/Energy Drink called MOOSE JUICE!
As soon as we saw the can design, we thought it would be popular. Having now tasted it and felt the effects, we KNOW it will be popular!
Muscle Moose Director Claire Harper had this to say, "We're really excited to bring Moose Juice to the market for both trade and public customers. The sports nutrition industry was built by hard working independent retailers and gym owners. I feel Moose Juice gives their customers a fun, innovative product to enjoy and at the same time helps support independents by generating easy additional revenue on an item which people would be less likely to order online."
Here's the low down on this seriously strong BCAA/Energy Drink:
Moose Juice is a seriously strong, zero sugar energy drink that's loaded with BCAA's - perfect before the gym or whenever you need a boost with no crash.
Seriously strong "feel good" energy boost
Loaded with BCAA's
Zero sugar and aspartame free
Only 15 calories per can (from BCAA's)
Huge doses of B-Vits & L-Tyrosene for mental alertness
Refreshing Berry flavour
ORDER MOOSE JUICE NOW!