FULFIL VITAMIN & PROTEIN BARS COMING SOON!
Published: 26/05/2016 10:11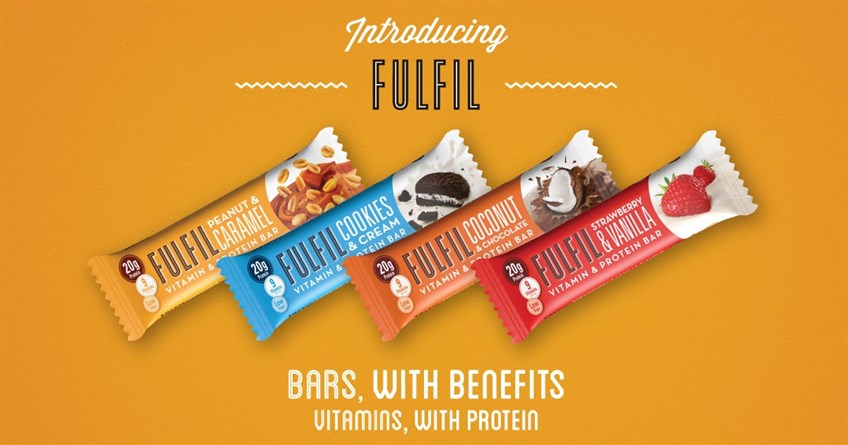 We're very pleased to be an Official Distributor for FulFil Nutrition the new Vitamin & Protein bar that has taken Ireland by storm and now it's coming to the UK!
In the past few years we've had some great tasting bars from Grenade, Oh Yeah & Quest to name just a few, when we saw FulFil Bars we thought they looked great and couldn't wait to try them, being a VITAMIN & PROTEIN bar a few of us here were thinking that it may struggle on taste when compared to the leading Protein bars.... How wrong were we! The samples came and were gone within minutes with all of our staff asking 'when will they be in?', needless to say we went back to FulFil and told them we wanted them in as soon as they could get them to us! Our first delivery is due next week so keep checking our new products section for updates - if you're looking for a great tasting bar packed full of goodness then look no further!
"IT ALL STARTED WITH A PROBLEM ME AND A FEW MATES EXPERIENCED."
Co-founders, Niall and Tom on how Fulfil Nutrition came to be
"We all loved the tasty healthy snacks we make at home, but we're busy and sometimes we ended up grabbing unhealthy snacks just to fulfill a craving for something sweet or to fill us up.
We decided to see if we could create the world's first vitamin and protein bar that tasted great AND helped you to stay in shape. And, we did... with a little help!
We brought in David Gillick, ex-Olympian/Healthy Eating Advocate and winner of Celebrity Masterchef as our 'Chef in Chief'.
He helped us develop a range of bars which tasted unreal AND delivered 100% of your RDA of 9 key vitamins, less than 3 grams of sugar and 20 grams of protein.
We hope and believe this is just the start of our journey of changing the face of 21st century snacking by creating a range of great tasting 'BARS WITH BENEFITS".