England Rugby & Optimum Nutrition Announce Partnership
Published: 06/03/2019 14:11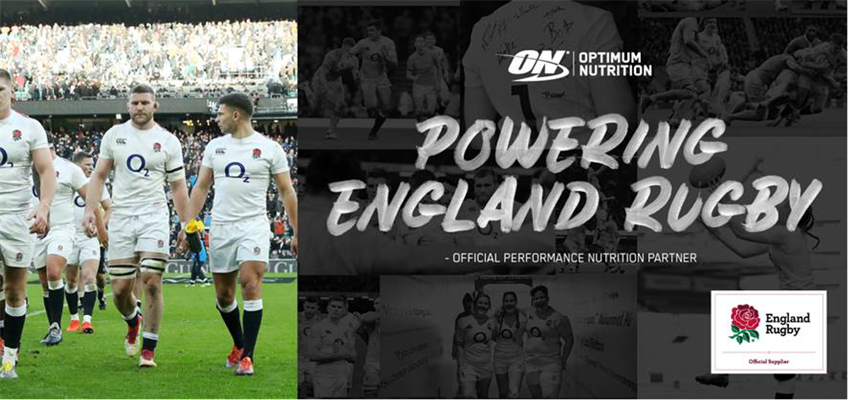 England Rugby has announced a new four-year partnership with Optimum Nutrition to become the official performance nutrition and official nutrition education partner to England Rugby.
As an official partner of England Rugby, Optimum Nutrition will provide products from its Informed-Sport tested range to the England senior men's and women's XVs and sevens squads.
Optimum Nutrition will also receive match day branding rights at Twickenham Stadium, starting at the England vs Italy match on Saturday, 9 March.
Working together, England Rugby and Optimum Nutrition will co-create a "good nutrition for performance" education programme aimed at community adult and age-group rugby players, coaches and parents in England.
The programme will be brought to life via a content series that will be published on a digital hub on EnglandRugby.com ahead of next season.
Included in the programme will be nutrition plans and advice, game preparation and recovery tips, recipe ideas and toolkits for coaches, as well as information on the role of supplements.
Optimum Nutrition will also produce products specifically for community rugby players, the first of which will be a rugby focused variant of "Gold Standard 100% Whey Protein" which will aid muscle recovery.
"We are delighted to be partnering with Optimum Nutrition and creating an engaging nutrition education hub with them that provides practical nutritional advice to rugby players, coaches and parents," said Dr Simon Kemp, RFU Medical Services Director.
"This advice will be consistent with England Rugby's 'food first' policy, but recognises that there are circumstances where the use of selected supplements is appropriate and will aid recovery, reduce injury risk and optimise the effects of training."
"It's great to announce this new partnership with Optimum Nutrition, a company that has been helping performance-focused athletes achieve their goals for over 30 years," added Simon Massie-Taylor, RFU Chief Commercial Officer.
"Not only will our elite teams have access to the products, but it's particularly important to be providing this new education programme to our grassroots players and coaches to enable them to get the best nutritional advice from the experts at England Rugby and Optimum Nutrition."
Shop all Optimum Nutrition products at Trade Prices here.