Chocolate Donut will satisfy your sweet tooth
Published: 06/03/2019 16:06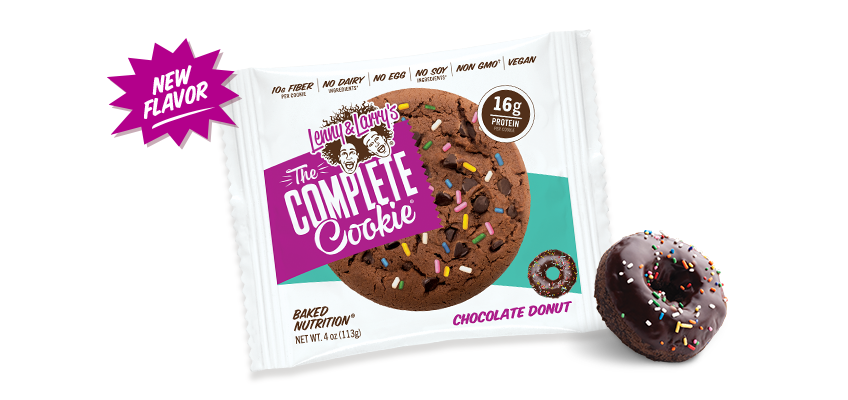 About Lenny & Larry's
Amidst a sea of tasteless and boring protein bars, Lenny & Larry's was founded in 1993 by two bodybuilders who revolutionized the snacking industry through creating the premier protein-enhanced cookie. The first to re-imagine a dessert as beloved as the cookie, Lenny & Larry's has developed a cult following among its fans and the brand has continued to lead the pack in sales for 20+ years.
Lenny & Larry's produces a wide array of nutritious snackable sweets, offering consumers a convenient source of plant-based proteins that taste downright delicious. Through creating a range of yummy and exciting flavors, Lenny & Larry's provides consumers with a complete snacking option that curbs hunger and satisfies taste buds on the go.
Our vegan, protein cookies are higher in protein and fiber than most cookies and are free from dairy, egg and soy ingredients. We don't use artificial sweeteners, sugar alcohols or high fructose corn syrup. Here at Lenny & Larry's, we are continuously working on cleaner ingredient decks, better flavor profiles and new innovative products to deliver premium protein-enhanced cookies to our fans.
Lenny & Larry's Chocolate Donut
NEW! Inspired by a classic donut shop favorite... this indulgent flavor profile takes our cookies to the next level. Introducing Chocolate Donut! Topped with colorful fun-sprinkles and baked with chocolate chips, our cookie tastes like rich chocolate Devil's Food donuts without the guilt. Indulge for breakfast or for dessert, our Chocolate Donut will satisfy your sweet tooth.
Order your Chocolate Donut flavour today by clicking here.