BSN NEW STYLE – SAME ATTITUDE
Published: 13/07/2018 10:11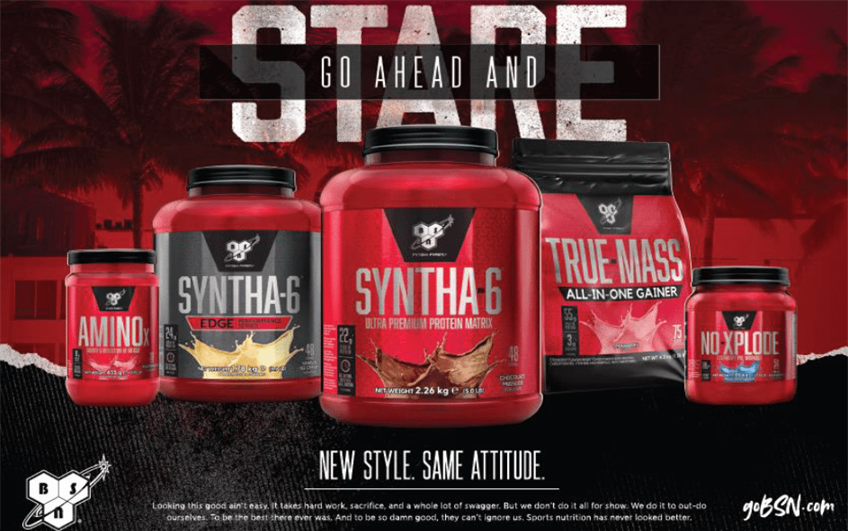 BSN have decided now is the right time for a new look. Existing graphics are a bit out dated and difficult to navigate. BSN will continue to appeal to accomplished athletes by staying true to their heritage of red and their one of a kind taste, while broadening their appeal to the next generation of athletes with a modern and contemporary look and feel.
So what's changing..........
A new chrome logo which gives the brand a more serious tone than the existing yellow logo. With black lids and accents creates a bold and contemporary look and feel, along with new font to improve readability. Simplifying the navigation of the label helps by orienting key information on the centre line from top to bottom. Bringing BSN's one of a kind taste credentials to life, they have added 3D flavour imagery.
Moving forward……….
BSN will phase new graphics in by key product lines starting this July. The remainder of the product portfolio will transition until existing stocks run out. It is expected that the transition will be complete by the end of 2018.
Key Product Lines:
BSN Syntha-6
BSN Syntha-6
Edge BSN N.O.-Xplode
BSN Amino-X BSN
True Mass
Barcodes on the SKUs that were the highest sellers in 2017 will be maintained, so no need to worry about having to change all the barcodes.
From September an update on point of sale material will be available to communicate 'the new look' of BSN while reassuring consumers that the products still have the same great formulas. Totems, Wobblers, Aisle Fins, Headers, Shelf Strips, Stickers, Web banners, GIFs and Video content.
To find out more, visit the BSN Page on our website, or call your Account Manager today on 0121 313 6738.