ADAPT INTRA AMINO
Published: 25/05/2016 10:11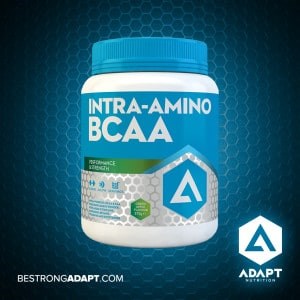 Adapt Nutrition Intra-Amino BCAA is an Intra-Workout supplement containing over 13 grams of Amino Acids, 8 grams of which are Essential Amino Acids (EAA). Using a complete EAA based product will not only give the user performance benefits of BCAA's it will also maintain lean muscle tissue, fight fatigue, improve immunity, speed-up recovery and repair.
Key Points:
You need all of the Essential Amino Acids and the Essential Amino Acids contain BCAA's.
BCAA's got a lot of industry momentum because they were very marketable.
EAA's offer many added benefits over just BCAA's.
Whatever the sport, be it training in the gym, cycling, running or rugby, the benefits of using IntraAmino BCAA should now be clear. Train harder, for longer and recover faster!
Intra-Amino BCAA has no cheap fillers, is free from all carbohydrates, contains only natural colours and is available in Apple & Pineapple flavours.
To find out more about this new product from Adapt Nutrition call your Account Manager now on 0121 313 6738