A Protein Bar that Doesn't Compromise on Indulgence
Published: 23/03/2022 10:12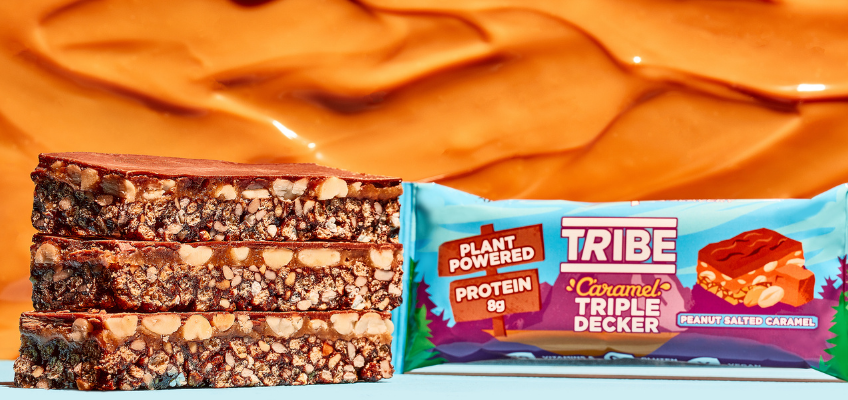 TRIBE was inspired by our founders' 1,000 mile run across Eastern Europe to fight child trafficking. On their journey, they discovered that eating natural plant-based food gave them the most energy, and now, TRIBE's mission is to lead a plant revolution by trusting Nature and to end modern slavery.
As the competition is high when it comes to nutrition bars, product innovation was a top priority when it came to creating TRIBE's protein bars. TRIBE's Nut Butter Triple Deckers have a chunky base layer of granola which adds that delicious crunch element to the bar, followed by the thick layer of smooth peanut butter, and topped with vegan chocolate. We like to think of our Triple Deckers as a nutritionally indulgent protein bar, which is why TRIBE protein bars are voted the best tasting plant-based protein products in the UK. Whether it's a mid-afternoon healthy snack or a pre-workout fuel, the Triple Decker tastes incredible!
We use pea protein which is a premium source of plant protein in our bars and this is what really fuels that natural energy. We choose plant-based protein because it is more environmentally sustainable and healthier than other animal-based protein sources. Plus plant protein is just as effective a source of energy to fuel your everyday adventures. Join the Plant Revolution.
TRIBE is a community of more than 100,000 people and we organise lots of events - hikes, yoga sessions, runs and more - each week to fundraise for our charity the TRIBE Freedom Foundation. More than £1,000,000 has been raised for our mission to end modern slavery. We go further and faster, together. We are a TRIBE.