5 Tips to Make a KILLING this Halloween
Published: 21/09/2018 12:14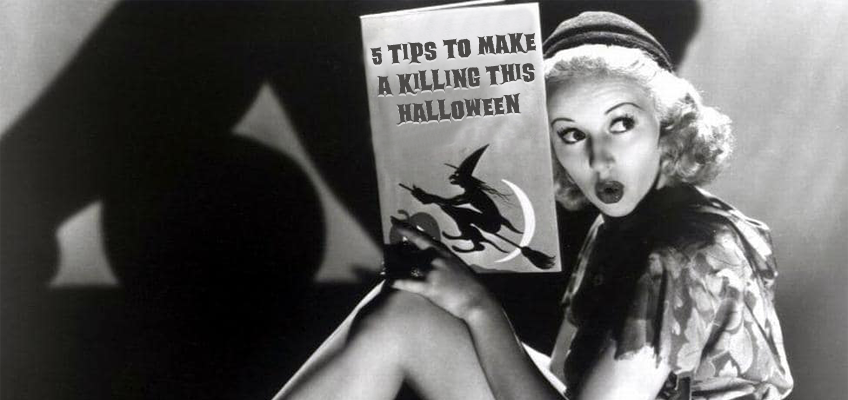 Although still seen as a US-focused celebration in some areas, the numbers suggest Halloween is now more than established on this side of the Atlantic as well.
In 2013, the estimated UK retail value for Halloween stood at £230m. However, in the space of just four years, this has grown by 35%, with retail sales hitting £310m in 2016, according to Mintel. It predicts sales to grow another 3.2% this year, hitting £320m, with retailers already crediting a rise in sales to Halloween buzz.
Therefore, marketers, business owners & sales managers should now look beyond just targeting kids around Halloween time.
Below are 5 handy tips on how to boost your sales this month:
1. Decorate your store, café or club
Never underestimate the power of festive decorations. If you've a shop, gym, café, stall or other business that people can physically visit, add some spooky or autumn themed touches. These will attract customers and show off your products in a fun new way.
2. Create Halloween themed bundles and stacks
Do you have a selection of products that lend themselves to a Halloween theme which you could group together and offer at a discounted rate? For example, Swanson Pumpkin Seed Oil, The Ripper by Cobra Labs, or Killa Ketones by Grenade. (Look out for spooky supplement deals at Tropicana Wholesale this October!)
3. Give Away Branded Treats and Samples
Trick-or-treating is one of the most popular Halloween traditions. Your business could take part by giving away branded sweets or other goodies. You could even get wrappers or small tokens printed with your logo. Sampling your products via taster sessions or sample sachets can also be seen as a 'treat'.
4. Add Halloween Elements to your Branding
One of the simplest ways to get in on the Halloween fun is to just incorporate popular Halloween symbols into your branding, including your website and social media headers. This will show customers you're in the Halloween spirit. Your logo should always be a recognisable symbol that represents your brand. But during the days and weeks leading up to Halloween, you could add some festive flair to your logo with the addition of elements like pumpkins, bats, witches hats or other popular Halloween images. Google, for example, creates specialty logos for many different seasonal events and holidays, including Halloween
5. Host a Halloween Competition on Facebook or Instagram
Social media offers so many opportunities for your business to use Halloween as an excuse to engage your customers. You could host a competition on Facebook or Instagram where you encourage your customers to submit photos of costumes, decorated pumpkins or other Halloween themed items. And offer a free gift or discount code to the winners to encourage even more entries. This increases the likelihood they'll actually shop with you over the Halloween season, and beyond!
Most of all, be creative & have fun with all of your seasonal Marketing and Sales campaigns! If you'd like to hear more about what Tropicana Wholesale will have to offer over Halloween, please call 0121 313 6738.